The Brazilian Expedition of Thomas Ender – Reconsidered
17 to 30 May 2004
Mark Dion (first naturalist), Dr. Robert Wagner (guide), Franz Christoph Amann (second naturalist), Walmor Correa (botanist), Karin Felbermayr (ambassador), Bartolomeo Gelpi (landscape painter and ethnographer), Christian Mayer (chronicler), Georg Paul Tiller (cartographer)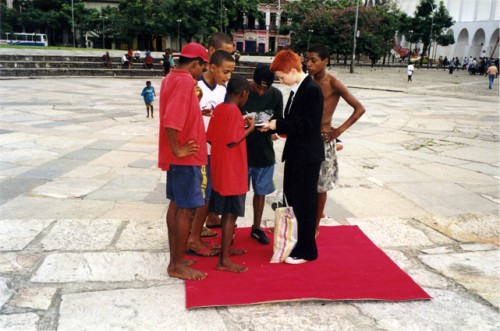 As the ambassador of our expedition, my outfit consisted of a black suit, blouse and sneakers. I always carried a red carpet with me. It was the same length as my body height and as wide as my arm span. Communication with my guests was supported by a text in Portuguese in my guest book:
The Brazilian Expedition of Thomas Ender – Reconsidered
On the occasion of our expedition I invite you to a reception on my red carpet. You are kindly requested to enter your name in my guest book.
Our expedition follows the route taken by Thomas Ender during his journey to Brazil in 1817/1818. Thomas Ender was the landscape painter accompanying the Austrian expedition that escorted Princess Leopoldine.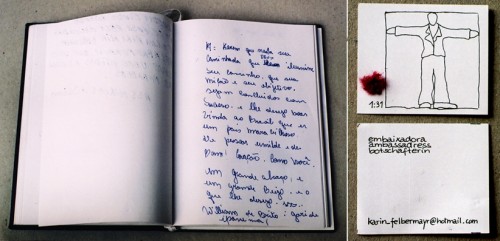 My guests received visiting cards with my email address and a small drawing.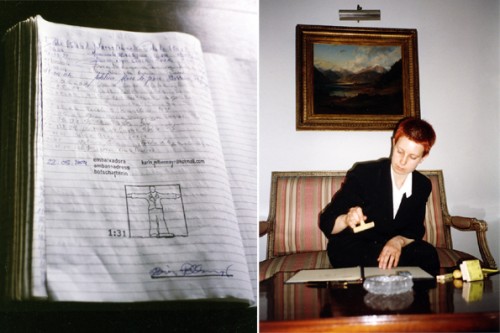 As ambassador I also had special rubber stamps with me, which I used for my guest-book entries in churches, restaurants, hotels and at the Austrian Consulate in Rio.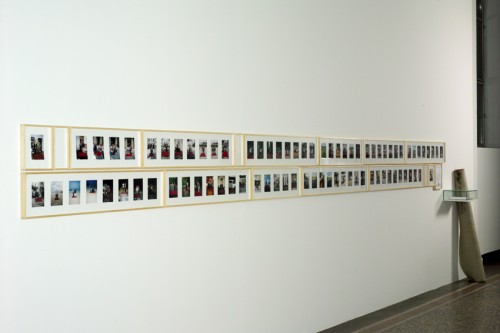 Installation view, embaixadora – ambassadress – botschafterin in group exhibition: The Brazilian Expedition of Thomas Ender – Reconsidered, Exhibition spaces of the Academy of Fine Arts Vienna, Vienna 2005, Photo: Michael Goldgruber
The photographs, which are framed and arranged chronologically according to calendar dates, document my interventions within the framework of The Brazilian Expedition of Thomas Ender – Reconsidered. The photos begin with my first reception with the Brazilian ambassador in Vienna, then continue with those taken during the journey in Brazil and finish back in Vienna at a reception with the Austrian Federal President beneath the original portrait of Leopoldine. Empty picture frames containing simply a passe-partout represent the more-or-less work-free days.
Detailed information about the project The Brazilian Expedition of Thomas Ender – Reconsidered